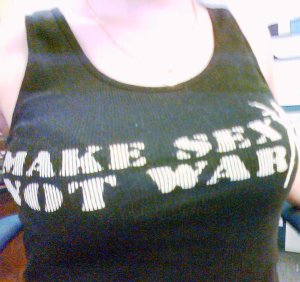 Post-a-vista No. 1:
Ash in Wonderland
Ash, this is everyone. Everyone, this ASH! (and her ta-ta's.) There! It's done. Now we all know each other.
So, Post-a-vistas!!!!!
If the system makes you want to "tweak," then maybe you need tweaking!!!!!
Time will tell!!!!!
In the meantime, Ash is pretty frickin' sexy and hott and unusually interesting. Also she has a lot of pets!!! And her hubs and two kids. She lives in Florida!!! So let's hear what SHE has to say!!!!!
(Holy shit, you think someone is interested in moi? HAHAHAHAHA! Oh wait, seriously? Alrighty then, let's get down to business!)
1. Describe your family: Well, there's me, obviously. My husband Tom, our two girls, Leila, 6 years and Alexis, almost 7 months. We currently have 6 six Assholes cats, Diesel, Punisher, Mama Sophie, Roxanne, Tiger Lily and Nikita. We had three turtles, but I took their tank outside to clean it and forgot about it for a day, and then they died. (Hurry up and call PETA, I'm a baaaaaaaaaaad person!)
2. Name one thing America is doing right for parents (I, personally, would find this question "challenging." wm): Wha? America doing right? How about the child tax credit? That's about the only thing America did right for me this year.
3. Name one thing America is not doing right for parents: EVERY FUCKING THING ELSE! Why aren't our teachers getting paid better? Why are music and art programs getting cut left and fucking right in our public schools? Why are athletics more highly prized then academics? Why doesn't every child in America have health coverage?
4. What's one parenting issue that really "riles you up," makes you ready to work for change: I have two issues, really.
1) I find it really hard to understand why every day in the news there is another child dead from neglect and abuse. Whose ass should I be kicking for ignoring a child's plea for help? Why doesn't the department of children's affairs get involved in these cases, and why, when they do bother to get involved, are children slipping through the damn cracks?
2) Why aren't more women breastfeeding? Why aren't more women getting the support they need to breastfeed? Why do celebs like Jessica Alba get to say that breastfeeding is gross, but I have to see celebs flash their vagina's around on television and in the paper? WHY SHOULD I HAVE TO COVER MY BABY'S HEAD WHILE SHE EATS, OR GO USE A DIRTY REST ROOM IF I'M OUT IN PUBLIC? Do ya'll like to eat with a blanket over your heads?
5. Who's gonna get your vote for President '08 & why? (feel free to ignore this question): Hillary, Hands fucking down. I want to see a woman in the white house, but more then that, I want to see a person in the white house who values the same things I do, the THINGS THAT MEAN SOMETHING, regardless of their sex or skin color. She is pro-choice and believes in family planning and THE PARENTAL NOTIFICATION. Clinton is for ending the war in Iraq, and she is an advocate for womankind. I want my girls to have a role model they can look up to, not one's like Britney or Lindsey they can look DOWN to.
6. Name one thing Post-a-Vistas could do to be a better place?: you've just done it by interviewing me. ;)
7. What's your fave thing about parenting?: The feel of my daughter's arms around my neck when I tuck her into bed at night. Because then I can go have me a strong drink. No, I'm kidding about the drinking part, don't all gang up on me at once! I think it's the fact that I'm raising my girls to be strong independent woman who think for themselves instead of buying into all the damn hype that everyday life in America shoves down their throats.
8. Anything else you think we should know about you?:
I was, at one point, a single teen mother. If I can get on a good track, so can the rest of the girls out there. Get yourself a damn job, get off of welfare and have pride in yourself!
Thanks for playing, Ash!!! Keep coming back, it works!