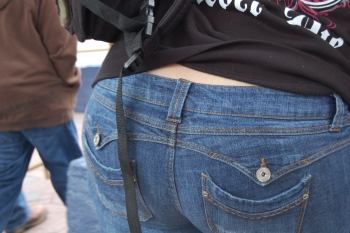 Dear, long-lost Thursday 13ers and All You Usual Suspects,
How the heck are you, friends? I've been… everywhere, man.
"Done laid around, done stayed around
This old town too long;
Summer's almost gone, winter's coming on…"
Oh, wait. Winter's almost over, it's almost spring. Whatever, it works for me. What does all of this have to do with Disneyland? Nothing. It's just — we haven't talked in awhile. I wanted to catch up. Here's your list:
13 Things I Must Say Blow Me Away About Disneyland
1) They don't perform weddings anymore next to the castle. How magical is that? Not very. (My friends C & K got married there — so romantic.)
2) The Electrical Parade rocks just as hard as everyone said it would.
3) My kids love it. Love it for 12 hours straight and want to go back the next day for more love it. They're kinda cynical, for an 8- and 5-year-old (geesh), but not once did I hear "This is boring."
4) The Tiki Room? Always a hit with me. I don't care how dusty those birds are, or how hokey it is. If I could have the Tiki Room attached to my house I would be in seventh heaven. Tiki Heaven. Especially with a Pineapple Whip in hand.
5) Large asses. I have never seen so many large asses in my life. We have photos to prove it. (Like we need to. Ha.) "The Asses of Disneyland: A Series."
6) Pirates of the Caribbean: Betta than evah.
7) Vodka in frozen lemonade? Well, you can have it if you remember to sneak in a flask.
8) Line for Mickey: Way Too Long. Line for Goofy? Not long at all! But he went on break right as Wacky Girl got to the front of the line. Damn dog. "But he shook my hand, it's OK! Just didn't sign my book!" All is forgiven, Goofy.
9) Speaking of Toon Town — my daughter went ga-ga for Toon Town — we had to go back twice. I didn't expect that.
10) Jungle Cruise: Closed for repairs. It's A Small World: Also closed for repairs. The looks on everyone's faces: Priceless. (Those are my two favorite rides, though, so I was a little bummed.)
11) Admission? Let's not discuss that. Instead let's talk about Downtown Disney…
12) Build-A-Bear: Yes! Build two!
13) Beignets and cafe au lait at the New Orleans place — always a hit.
More on the trip later… Happy Thursday.
Love,
WM