My mom bakes the best cookies ever — chocolate chip, chocolate crinkle, chocolate drop cookies. Pretty much anything from the chocolate food group.
Refrigerator cookies, snickerdoodles, molasses cookies, the other molasses cookies, both delicious, etc. But these are the deluxe cookies: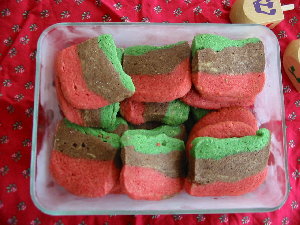 RAINBOW WALNUT SLICES
1 cup margarine
1 ¾ cups granulated sugar
2 eggs
2 teaspoons vanilla
3 cups sifted flour
1 ¼ teaspoons salt
½ teaspoon baking powder
red and green food coloring
¼ cup quartered candied red cherries
1 ½ cups chopped walnuts
¼ cup quartered green cherries
1 ounce square unsweetened chocolate, melted
2 tablespoons finely chopped candied ginger (optional
350° 8 to 10 minutes
Cream together butter, sugar, eggs and vanilla.
Sift flour with salt and baking powder, blend into creamed mixture.
Divide dough into thirds.
Tint one portion pink, blend in red cherries and ½ cup walnuts.
Pack in even layer in waxed paper lined loaf pan (8 ½ x 4 ½ x 2 ½).
Tint second portion light green and mix in ½ cup walnuts and green cherries.
Blend melted chocolate into remaining dough and mix in walnuts and ginger.
Pack chocolate portion evenly over pink layer and top with green.
Cover pan and chill in freezer.
To bake, remove loaf of dough from pan and slice thin.
Cut slices in halves and place on cookie sheet one inch apart.
APRICOT PASTRIES
2 cups dried apricots
2 cups water
3 cups sifted all-purpose flour
1 tablespoon sugar
½ teaspoon salt
1 cup shortening
½ cup milk
1 package active dry yeast
1 slightly beaten egg
½ teaspoon vanilla
OVEN 350 degrees
Simmer apricots in water until tender. Cool. Sift together flour, sugar, and salt; cut in shortening till mixture resembles coarse crumbs. Scald milk; cool to warm; add yeast and let soften. Add egg and vanilla. Add to flour mixture; mix well.
Divide dough in four parts. On a surface well dusted with confectioners' sugar, roll one part at a time to 10-inch square. Cut each in sixteen 2 ½-inch squares; place heaping teaspoon of apricots in center of each. Pinch two opposite corners together.
Place two inches apart on greased cooky sheet. Let stand 10 minutes. Bake at 350 degrees about 10 to 12 minutes. Remove at once from pan; roll in confectioners' sugar. Cool on rack.
Makes 64 pastries.
Posted by WackyMommy in
Recipe Club
|
Comments Off

on my mommy's best Christmas cookies ever: Rainbow Walnut Slices and Apricot Pastries